Archive for the 'Food' Category
I'm really glad to finally see some gluten-free condensed soups coming to our local markets!  It is going to make cooking so much easier!  Until now, I'd been using Alfredo Sauce, which worked well with most casseroles, but I was missing the variety of condensed cream of chicken, condensed cream of mushroom, and condensed cream of celery soups.  Low and behold–look what I found at the store this week!  It's a gluten-free condensed cream of chicken soup by Pacific Natural Foods! Way to go Pacific!  You can follow them on Facebook and Twitter, if you'd like–and be sure to thank them for helping out the gluten-free community!
Okay, as for the review…
the texture & consistency were good
the flavor was a little bland (next time I may add some chicken bouillon)
the price was affordable (around $2.00 per carton, I think)
Would I buy it again?  YES!  And I plan to try the condensed cream of mushroom and the condensed cream of celery in the near future!  Thank you, Pacific!
Now, if you're more of a do-it-yourself person, here's a quick & easy recipe for condensed soup that you can make at home:
Condensed Cream Soup Recipe
Ingredients:
1 cup cold milk
2 Tbsp cornstarch
1 1/2 Tbsp butter
1 tsp chicken bouillon
1/2 tsp salt
dash of pepper
In a small saucepan, whisk milk and cornstarch till well blended.

Stir in butter, bouillon, salt, and pepper.

Heat to a boil, stirring frequently. Simmer on low for one minute more to thicken.
Use in recipes to replace one can of cream of anything soup.
Condensed Cream of Mushroom Soup:
Stir in a drained 4 ounce can of mushroom pieces to the recipe above.
Use in recipes in place of one can of Cream of Mushroom Soup.
Condensed Cream of Chicken Soup:
Stir in 1/2 cup cooked chicken pieces to the recipe above.
Use in recipes in place of one can of Cream of Chicken Soup.
Condensed Cream of Celery Soup:
Stir in 1/2 cup sautéed chopped celery to the recipe above.
Use in recipes in place of one can of Cream of Celery Soup.
Special thanks to Annette Hensley of the Kalamazoo Celiac Support Group for sharing this recipe that she found on http://www.gfutah.org.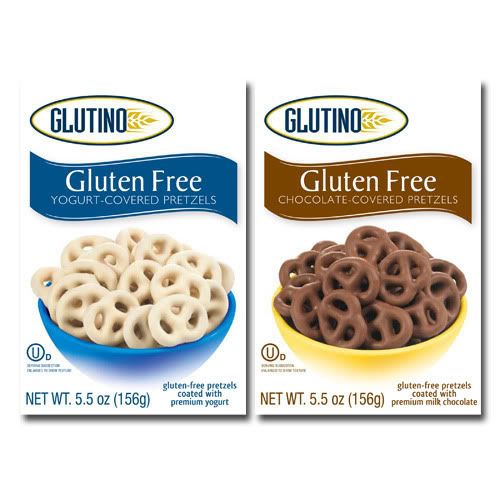 Don't these look AMAZING???  I've made chocolate-covered pretzels on my own since being gluten-free, but to be able to just open a box and enjoy will be so nice!  Glutino makes good products, so I'm sure this will be no exception.  I haven't been a yogurt-covered pretzel fan in the past, but may have to try these, too.
No word on when they will appear on store shelves that I could find.  So if you hear of a date–or see them in your store, please post a comment and let me know!
What I really like about this recipe is that it doesn't make you use four different flours, Xanthum gum, and other fussy ingredients.  It simply says "gluten-free baking mix", so you can choose your favorite one.  My recommendation is for Pamela's Baking & Pancake Mix, which gives an excellent texture to baked goods and is easy to work with, as the measurements are 1-to-1 with regular flour. And it's even on sale right now through Amazon!
Ingredients:
3/4 cup real butter, softened to room temperature
1 1/4 cup light brown sugar
1/4 cup granulated sugar
1 1/2 teaspoon gluten-free vanilla extract
2 large eggs
2 1/4 cup gluten-free baking mix
1 teaspoon baking soda
1 teaspoon gluten-free baking powder
1 teaspoon salt, optional
2 cups semi-sweet chocolate chips
1/2 cup chopped nuts, optional
Directions:
Preheat oven to 375 degrees. Grease two large cookie sheets. Blend butter and sugar in a bowl until creamy. Add eggs and vanilla. In a large mixing bowl, blend remaining dry ingredients; slowly fold in sugar mixture. Spoon in chocolate chips and nuts, if desired. Drop by the teaspoonful onto cookie sheet. Bake 7-10 minutes. Cool and serve. Yield: 2 dozen large cookies or 3 dozen small cookies.
Sounds yummy, right?  If you have a gluten-free chocolate chip cookie that you think can beat this one, please email it to me!  I'd love to try it!
I'm so pleased to share a recipe with you today from the "Once-A-Month-Cooking: Family Favorites" book that we are giving away!  The allergy consultant for this book was Lori Baird from Eating Allergy Free.  Lori has Celiac, in addition to a host of other food allergies.  Lori demonstrates how easy this recipe is in the video below.
Here is the recipe for this amazing soup:
VEGAN CREAMY TOMATO SOUP               * Serves 4 in 45 minutes
1 tablespoon extra virgin olive oil
1 14.5 oz. can unsalted white beans, rinse and drain
1/4 cup onion, ,finely chopped
1 teaspoon dried tarragon crushed
1 large clove garlic, minced
1 tablespoon lemon juice
1/2 teaspoon lemon zest
1/4 cup shredded carrot
1/4 teaspoon fresh cracked black pepper
2 14.5 oz. cans unsalted, diced tomatoes, undrained
Tip: If you do not have lemon on hand, use 1 teaspoon distilled vinegar or rice vinegar.
HEAT oil in large stock pot on medium high heat.
SAUTE onion with 1/8 teaspoon of salt until tender, but not brown; for 1-2 minutes.
STIR in garlic.
ADD carrots.  Sauté vegetables until tender for 1-2 minutes; stirring occasionally.
STIR in tomatoes, beans, and tarragon; bring to boil.
TURN heat to low and simmer for ½ hour; stirring occasionally.
ADD lemon juice, zest, cracked black pepper, and 1/8 teaspoon of salt.
PUREE until smooth.
ENJOY soup hot or cold!
Serving suggestions: Try this with a pinch of cayenne and stir in some fresh finely chopped spinach or watercress before serving.
This recipe is free from: Gluten  Wheat  Lactose  Casein  Dairy  Soy  Yeast  Corn  Egg  Nuts  Seafood and  Shellfish.  Also is low in sodium and no add sugar.
I am so excited to tell you about this new book, "Once-A-Month Cooking: Family Favorites"!  I've always loved the idea behind the "once-a-month" cooking and have put it into practice in a minimalist form over the years.  So, why is this cookbook so special?  It has a 2-week GLUTEN-FREE cycle of meals!  How amazing is that?
I'm super excited to let you know that I'll be blogging all week about this book, sharing interviews with the authors, recipes, and reviews.  I've already tried one of the recipes and was very impressed (more on that later!).  [NOTE:  Not all of the recipes are gluten-free, but you can always make substitutions…as I'm sure you probably already do!]
In the meantime, if you would like to win a copy of this awesome, hot-off-the-press book (published September 1, 2009), sign up for this website's email news list (top, right column).  I will be selecting one winner from the list subscribers next week!  I may even send out some bonuses…we'll just have to see!  🙂
Please leave your questions and comments below and let me know if you've used the OAMC method before and how you liked it!  Can't wait to hear your comments!
Dear Support Group Leader,
We'd like your help to bring back the Starbucks gluten-free cake! Despite what appears to be strong support from the gluten-free community, Starbucks is discontinuing its Valencia Orange Cake. This is a tremendous blow to the gluten-free community. It's already so hard to find good, safe gluten-free options. Having a gluten-free treat at Starbucks was an enormous win for the community. It's sad to see it disappear such a short time later, without any real explanation.
We've put together a petition to let Starbucks know how much we miss the gluten-free cake and to let them know we'd love to see it back in our local Starbucks! Please share this petition with your support group members and ask them to sign it. The petition is located here:  http://www.triumphdining.com/blog/petition-to-starbucks-bring-back-the-gluten-free-cake/. We have 1,900 signatures so far – our goal is 5,000. We chose the goal of 5,000 because it's a number we think Starbucks would sit up and pay attention to. When we reach our goal, we will present the petition to Starbucks corporate headquarters.
Please join us in our quest to get more options for gluten-free people around the country. I'll keep you posted. Thank you for reading this.
Sincerely,
Ross Cohen
Triumph Dining
124 E Broad St
Falls Church, VA 22046
E-mail: ross@triumphdining.com
Phone: 1-800-558-2906
Coming to a store near you this summer–
I've gotta' tell you….I'm really excited about this!  Not just that we will have another product to choose from to eat safely, but that gluten-free products are making it to mainstream companies!  It's an exciting time to be Celiac (yeah, I know that sounded weird).
I haven't found these products on the shelves in the Grand Rapids area, yet, but you can order them from Amazon.  Links for your convenience:
You can find out more on the new Gluten-Free Betty Crocker website, but all GF mixes are made in a dedicated facility and they are Kosher.  Kudos to Betty Crocker for making life easier for those eating Gluten-Free!!!
Gluten Free Sampling
Featuring Local Bakery — Midge's Muffins
Thursday June 25 — 2:00 PM to 6:00 PM
Robin will be in the Tasting Kitchen offering samples of her delicious gluten free muffins.
Strotheide Family Pumpkin Cake
1 c. oil
3 1/2 c. sugar
4 eggs
1 tsp. salt
3 1/2 c. GF All purpose flour mix
1 3/4 tsp. xanthum gum
2/3 c. water
2 c. pumpkin
1 tsp. cinnamon
2 tsp. baking soda
Grease and flour bundt or tube pan. Preheat oven at 350.
Cream together oil and sugar. Add eggs one at a time stirring after each one. In a seperate bowl, mix all dry ingredients together. Add dry ingredients and water to oil and sugar mixture alternately, beginning and ending with dry ingredients also stirring after each addition. Add pumpkin and stir well. Pour into pan and bake for 1 hour (may take longer in some ovens). Note: You must add ingredients just as instructed, or the cake will not turn out properly.
Prepare glaze while cake is in the oven.
Stir together until thoroughly combined:
2 c. powdered sugar
1 tbsp. softened butter
4-6 tbsp. water
1/2 tsp. vanilla or almond extract
Do not make too thin or most of the glaze will end up on the cake plate.
Let cake cool for about 30 – 45 minutes before removing from pan then drizzle the glaze over the cake.
Thanks, Rachelle, for sharing this family favorite!