We had a really great meeting last night.  We had 18 people, only 3 of which had been to a previous meeting, so that was really great!  Many of the people who attended our meeting found out about it through an article in the local newspapers.  Unfortunately, our special guest had an emergency and wasn't able to join us.
 We sampled some Miss Roben's Soft Pretzels that the Allergy Grocer was so nice to supply for us.  Susan, who was not able to attend the meeting, was nice enough to prepare these for the group. [Thanks, Susan!]  Some preparation notes that she sent along:
These were prepared with yeast, olive oil, and vinegar.  I used warm water.

Way too thick & sticky for a hand mixer.  Use a heavy duty stand mixer.
Takes 15 min. (at least ) to brown on bottom before you turn them.
Pretty much have to make "sticks" because dough is very difficult to work with.  I attempted a "pretzel shape" & it did not work.
I baked these on a silicon baking sheet instead of greasing a pan–this may have affected browning.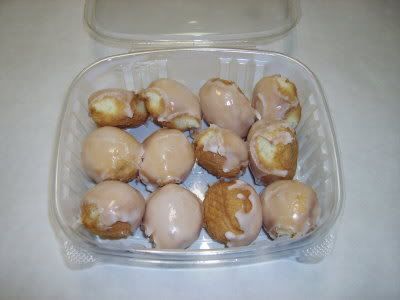 We were also treated to some donut holes from Celiac Specialties in Chesterfield Township, near Detroit.  These were pretty much amazing!  They sent us glazed and cinnamon sugar.  They were a cake-like donut, not fluffy, like a Krispy Kreme style. 
 Allison was also nice enought to make us some really, really good peanut-butter, chocolate chip cookies from a recipe found on the All Recipes website.  [Thanks, Allison!]  For convenience, I will reprint the recipe here, but be sure to visit the site for a LOT of really great recipes!
| | |
| --- | --- |
| Gluten-free Peanut Butter Cookies | |

Submitted by:

Jackie


Rated: 5

out of

5

by 29 members

Yields:

15 servings

"This recipe is gluten-free and delicious! Pecans are great in these, but feel free to use peanuts or any other nut you choose."

INGREDIENTS:

2 cups peanut butter

2 cups white sugar

4 eggs, beaten

2 cups semi-sweet chocolate

chips (optional)

1 1/2 cups chopped pecans

(optional)

DIRECTIONS:

| | |
| --- | --- |
| 1. | Preheat oven to 350 degrees F (175 degrees C). Grease cookie sheet. |
| 2. | Combine peanut butter, eggs, and sugar and mix until smooth. Mix in chocolate chips and nuts, if desired. Spoon dough by tablespoons onto a cookie sheet. |
| 3. | Bake for 10 to 12 minutes or until lightly browned. Let the cookies cool on the cookie sheets for 5 to 10 minutes before removing. |
Everyone who attended received a bag full of sample products from various gluten-free vendors.  We will be posting reveiws of these products in the near future.  If you would like to add your comments about the pretzels, donut holes or cookies, please do so by leaving a comment.