Archive for the 'Reviews' Category
I've been sampling some of the Full Flavor Foods mixes, and I have to say that I have been very impressed. The brown and turkey gravies were both very good and the only real difference that I noticed was that they formed a skin on top as they cooled down (faster than non-gluten versions). Once you stirred it again, that disappeared and it was fine again.
The other "experiment" that I tried turned out really well. I used a packet of the cream soup and a packet of the cheese sauce together. Here's the recipe:
Chicken Spaghetti Pie

Cut up cooked chicken breasts into small cubes
Cook Tinkyada rice penne, per directions, and drain
Prepare FFF Cheese Sauce and Cream Soup mixes together, as directed

Mix penne, sauce mixes, and chicken together. Add shredded cheese (I used sharp cheddar and mozzarella) and stir. Put in baking dish/pan and cover top with more cheese. Bake at 350 degrees until cheese is thoroughly melted (we even like ours a little browned on top), approximately 20-30 minutes. Allow to cool 5-10 minutes before serving.
I think this has been the biggest GF hit that I've made yet. My husband and teenage boys are anxious to have me make this again!
There are more tips and ideas for FFF mixes on their website.  You can purchase these mixes at Otto's Turkey Store and they are coming soon to Meijer!  We are anxious to have Paul Swanson (owner of FFF) with us in January!
We had a really great meeting last night.  We had 18 people, only 3 of which had been to a previous meeting, so that was really great!  Many of the people who attended our meeting found out about it through an article in the local newspapers.  Unfortunately, our special guest had an emergency and wasn't able to join us.
 We sampled some Miss Roben's Soft Pretzels that the Allergy Grocer was so nice to supply for us.  Susan, who was not able to attend the meeting, was nice enough to prepare these for the group. [Thanks, Susan!]  Some preparation notes that she sent along:
These were prepared with yeast, olive oil, and vinegar.  I used warm water.

Way too thick & sticky for a hand mixer.  Use a heavy duty stand mixer.
Takes 15 min. (at least ) to brown on bottom before you turn them.
Pretty much have to make "sticks" because dough is very difficult to work with.  I attempted a "pretzel shape" & it did not work.
I baked these on a silicon baking sheet instead of greasing a pan–this may have affected browning.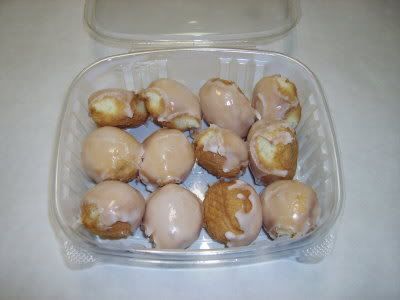 We were also treated to some donut holes from Celiac Specialties in Chesterfield Township, near Detroit.  These were pretty much amazing!  They sent us glazed and cinnamon sugar.  They were a cake-like donut, not fluffy, like a Krispy Kreme style. 
 Allison was also nice enought to make us some really, really good peanut-butter, chocolate chip cookies from a recipe found on the All Recipes website.  [Thanks, Allison!]  For convenience, I will reprint the recipe here, but be sure to visit the site for a LOT of really great recipes!
| | |
| --- | --- |
| Gluten-free Peanut Butter Cookies | |

Submitted by:

Jackie


Rated: 5

out of

5

by 29 members

Yields:

15 servings

"This recipe is gluten-free and delicious! Pecans are great in these, but feel free to use peanuts or any other nut you choose."

INGREDIENTS:

2 cups peanut butter

2 cups white sugar

4 eggs, beaten

2 cups semi-sweet chocolate

chips (optional)

1 1/2 cups chopped pecans

(optional)

DIRECTIONS:

| | |
| --- | --- |
| 1. | Preheat oven to 350 degrees F (175 degrees C). Grease cookie sheet. |
| 2. | Combine peanut butter, eggs, and sugar and mix until smooth. Mix in chocolate chips and nuts, if desired. Spoon dough by tablespoons onto a cookie sheet. |
| 3. | Bake for 10 to 12 minutes or until lightly browned. Let the cookies cool on the cookie sheets for 5 to 10 minutes before removing. |
Everyone who attended received a bag full of sample products from various gluten-free vendors.  We will be posting reveiws of these products in the near future.  If you would like to add your comments about the pretzels, donut holes or cookies, please do so by leaving a comment.
I have been busy contacting various vendors regarding sending us samples and have gotten some VERY positive responses!  I'm so excited about it!  We have some hot cereal from Bob's Red Mill, some dry mixes from the Allergy Grocer, and a TON of stuff from Lundberg Family Farms!  I'm talking about a TON!  There were 5 huge boxes waiting for me at home!  Today, I came home to samples for the group from Cebe.  I can't believe how generous the vendors have been!
I need some volunteers to do some baking, though!  How about it?  Just let me know if you can help.  Boy, I think we all need to skip dinner before the November 19 meeting! 
I also need some volunteers to write some posts for the website.  They can be anything–like…
restaurant reviews
product reviews
book reviews
general information about Celiac or GF Living
Celiac/GF events that are coming up
etc. — be creative! 
We also want to get the word out to the general public about the group so we can help as many people as we can.  I had some business/information cards printed, so I'll pass those out at the next meeting.  If you have some ideas, please let me know!