Archive for the 'News' Category
Natural Health Center
4610 West Main Kalamazoo, MI 49006
Saturday Oct. 24
10 am – 4 pm
It's our annual celebration for our gluten-free friends! Join us for all kinds of great activities and samplings … Gluten Free Sensations (cookies & granolas!), Celiac Specialties (donuts and more!). We will also have local restaurants (Pasta Pasta, Erbellis and FireBowl Cafe) that offer gluten-free menu items! Bike Raffle and other great gift baskets and giveaways!
Gluten Free Tips
…to avoid contamination in the kitchen!
Purchase separate jams, peanut butter, and mayonnaise to avoid bread crumbs in the shared jars.
Purchase a separate toaster for gluten free breads. Or- use a toaster oven that can be cleaned between uses, or place tinfoil on the rack to avoid contamination.
Clean counter tops and cutting boards often to avoid contamination.
Cooking utensils, colanders and pans need to be cleaned carefully after each use and before gluten-free cooking.
Patsy's Gluten-Free Chocolate Chip Cookies!
A good friend of ours, who has been cooking gluten-free for years has shared this great chocolate chip cookie recipe. Let us know how you like it!
Jill's Pick!
Our "staff pick of the month" is Jill's new favorite … gluten free, soy and dairy free Coconut Bliss Bars! They are delicious! You would never know that they are gluten and dairy free! Because they are agave sweetened they are low glycemic! To top it off they are organic and use fair trade ingredients!
From Jamie Bowman:
I am hosting a Pampered Chef party at my house on Saturday July 11th, @ 1:00. Since we are Gluten Intolerant, the Rep will be preparing Gluten Free Food, I believe the main dish is Grilled Fajitas. You are welcome to come and see what ideas they have, I am always open to new food ideas, and I do love their products. Jamie Bowman 3275 Wood School Rd, Middleville. jbowman@tkschools.org
Gluten Free Sampling
Featuring Local Bakery — Midge's Muffins
Thursday June 25 — 2:00 PM to 6:00 PM
Robin will be in the Tasting Kitchen offering samples of her delicious gluten free muffins.
August 16 (Sunday) – 21 (Friday)
$450 is our grand camp fee for 2009.
$75 deposit is required to hold a spot. Checks made out to Camp Manitou-Lin.
Send to:
Nicole VanZwoll
3614 Ridgefield Rd.
Lansing, MI 48906
The full amount (and paperwork) is due two weeks before camp, on August 2, 2009
Ages 7 – 14 (Co-ed) Each to their own cabins.
If you have questions about this, do email me at eclansingmi@yahoo.com or my camp email at
glutenfreemichigankidscamp@yahoo.com or call my home at 517-886-5025.

Look at what I found at Meijer today!  –>
I was so excited, I could hardly stand it!  According to Sure Foods Living…
I spoke with General Mills customer service today to confirm that Corn Chex, Cinnamon Chex, Strawberry Chex, and Honey Nut Chex have also been re-formulated to be gluten-free. The General Mills representative said that if any of their cereals are gluten-free it will be clearly marked on the front and side of the box and that some cereals may be rolled out in only some parts of the country at first. UPDATE: Gluten-free versions of Chex will officially be available on June 1st. Thanks to The Gluten-Free Homemaker for this detail!
I'm really excited to try the other GF flavors when they hit the stores!  I think when I went GF 2 1/2 years ago, there was just Rice, Corn, and Wheat Chex.  They also had a Frosted Mini Chex, which was really good…but, alas…I degress.
Also, according to Gluten Free Philly…
Other General Mills cereals that are GF-friendly include Honey Kix and Chocolate Lucky Charms.
I've been eating Trix on occasion, but I didn't know about these others.  Way to Go, General Mills!  The Gluten-free Community applauds you!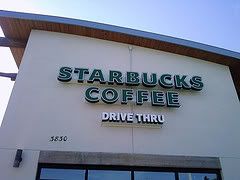 Another big announcement that I just found out about from Starbucks…
Starting May 5 we will be launching the Gluten-free Orange Valencia Cake with Almonds….This product was inspired by the passionate responses we heard from you on My Starbucks Idea.  [I voted in this!]

The Orange Valencia Cake is a delicious moist citrus cake bursting with Valencia oranges and topped with crunchy almonds.  Not only is it gluten-free, it is also prepared with 7 simple ingredients: Whole Eggs, Valencia Orange Pulp, Almonds, Sugar, Orange Peel, Gluten Free Baking Powder, and Orange Oil.  Plus it delivers 30% of your daily value of vitamin C.

Keep on the look out for it in the pastry case with a sign that says "gluten-free."  A single cake will be displayed unwrapped so you can see it clearly, but don't worry.   They all come individually packaged to prevent cross contamination.
Way to Go Starbucks for listening to your customers and being sensitive to the needs of your gluten-free fans!
Forest Hills Foods will be holding another Gluten-free tasting event on May 1.  Marion with Pamela's gluten free bakery will be here baking gluten free cornbread and gluten free brownies! Time: 4-5 pm.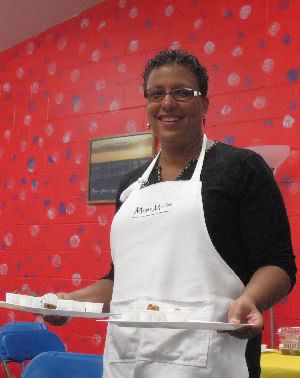 Well, after a nice break for the summer, we will start meeing regularly on the 3rd Monday of each month, starting tonight, September 15.  We meet at 7:00 pm in the Willis Recreation Center (upstairs) of the First Baptist Church of Middleville.  If Thornapple Kellogg Schools are closed due to bad weather on the day of our meeting, our group will also be canceled for that month.
Tonight, our guest will be Robin Green from Midge's Muffins (www.midgesmuffins.com).  If you've never tasted Robin's treats, you're in for a sweet surprise!  They are AMAZING!  She will be bringing samples, as well as product that will be available for purchase.
We will also be talking about take-along foods…foods that are easy to take along for lunches or to school.  So, bring your ideas to share and packaging, if you have any, so we can look at other potential allergens.
Forest Hills Foods will be holding another Gluten-Free tasting day on Monday, March 10 from 12:00-7:00 pm. Enjoy!
Cedar Point is working on incorporating gluten free items in the park for the 2008 season.
They have already written a section in the employee handbook about gluten and cross-
contamination. They are planning GF hamburgers & hotdogs (both with buns!), corn dogs
and chicken strips with dedicated fryers for these and the french fries.
Gary Jones is the man who is heading this up and he was very passionate about CD on the
phone. He doesn't have any friends or family members with the disease, but has come to
realize the need for gluten free items after attending local support groups and reading
information online. He was very knowledgeable and almost had me in tears of joy to hear
his enthusiasm! He asked me to pass this news on to all my support groups.
If anyone is planning a trip to Cedar Point you can email him at gjones@cedarpoint.com to
get the most up-to-date gluten free info.
 *Thanks Nicole!