I'm really glad to finally see some gluten-free condensed soups coming to our local markets!  It is going to make cooking so much easier!  Until now, I'd been using Alfredo Sauce, which worked well with most casseroles, but I was missing the variety of condensed cream of chicken, condensed cream of mushroom, and condensed cream of celery soups.  Low and behold–look what I found at the store this week!  It's a gluten-free condensed cream of chicken soup by Pacific Natural Foods! Way to go Pacific!  You can follow them on Facebook and Twitter, if you'd like–and be sure to thank them for helping out the gluten-free community!
Okay, as for the review…
the texture & consistency were good
the flavor was a little bland (next time I may add some chicken bouillon)
the price was affordable (around $2.00 per carton, I think)
Would I buy it again?  YES!  And I plan to try the condensed cream of mushroom and the condensed cream of celery in the near future!  Thank you, Pacific!
Now, if you're more of a do-it-yourself person, here's a quick & easy recipe for condensed soup that you can make at home:
Condensed Cream Soup Recipe
Ingredients:
1 cup cold milk
2 Tbsp cornstarch
1 1/2 Tbsp butter
1 tsp chicken bouillon
1/2 tsp salt
dash of pepper
In a small saucepan, whisk milk and cornstarch till well blended.

Stir in butter, bouillon, salt, and pepper.

Heat to a boil, stirring frequently. Simmer on low for one minute more to thicken.
Use in recipes to replace one can of cream of anything soup.
Condensed Cream of Mushroom Soup:
Stir in a drained 4 ounce can of mushroom pieces to the recipe above.
Use in recipes in place of one can of Cream of Mushroom Soup.
Condensed Cream of Chicken Soup:
Stir in 1/2 cup cooked chicken pieces to the recipe above.
Use in recipes in place of one can of Cream of Chicken Soup.
Condensed Cream of Celery Soup:
Stir in 1/2 cup sautéed chopped celery to the recipe above.
Use in recipes in place of one can of Cream of Celery Soup.
Special thanks to Annette Hensley of the Kalamazoo Celiac Support Group for sharing this recipe that she found on http://www.gfutah.org.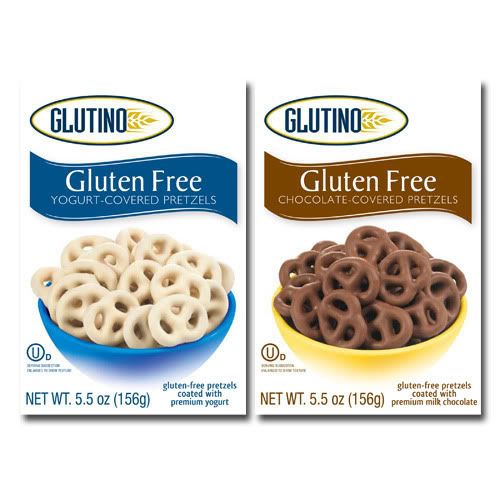 Don't these look AMAZING???  I've made chocolate-covered pretzels on my own since being gluten-free, but to be able to just open a box and enjoy will be so nice!  Glutino makes good products, so I'm sure this will be no exception.  I haven't been a yogurt-covered pretzel fan in the past, but may have to try these, too.
No word on when they will appear on store shelves that I could find.  So if you hear of a date–or see them in your store, please post a comment and let me know!
Spring is here…well, mostly.  There's still a chill in the air, so soup sounded good for lunch.  I do think this may have been the perfect lunch–or near-perfect.  I had some V-8 Tomato Herb Soup.  It was my first time trying this soup and I must say, it was really, really good!  It touts a full-serving of vegetables, which is hard for me to get because I really don't like them–and no preservatives or artificial flavors.  While it doesn't specifically say "Gluten-free", there are no ingredients on the list that contain gluten.
So, tomato soup must have crackers, right?  My absolute favorite gluten-free crackers are made by Glutino.  They come in several flavors.  I really like the Cheese flavor, but today I chose the Plain ones (shown) for my soup. I crumbled several of these and made the awesome V-8 Tomato Herb Soup even better!  These gluten-free crackers taste almost like Ritz crackers–seriously!  My husband even likes them and he's a pretty tough cookie!
Speaking of cookies…dessert was the new "Oreo-clone" cookie made by Glutino–the new Chocolate Vanilla Cream cookies.  They can definitely rival the K-toos.  In fact, I like them a little bit better.  And they're about $1.00 per package cheaper (at least in my store).  I never cared for the chocolate K-toos–it's just me–I know other people love them.  To me, the new Chocolate Vanilla Cream Glutino cookies taste closer to Oreos.  I do prefer the vanilla cream version of both brands–just a personal preference.
Top it all off with a glass of Mountain Dew and I've got to say, it was a really, really good lunch!
Let me know if you try any of the above products–I'd love to hear your opinion!
What I really like about this recipe is that it doesn't make you use four different flours, Xanthum gum, and other fussy ingredients.  It simply says "gluten-free baking mix", so you can choose your favorite one.  My recommendation is for Pamela's Baking & Pancake Mix, which gives an excellent texture to baked goods and is easy to work with, as the measurements are 1-to-1 with regular flour. And it's even on sale right now through Amazon!
Ingredients:
3/4 cup real butter, softened to room temperature
1 1/4 cup light brown sugar
1/4 cup granulated sugar
1 1/2 teaspoon gluten-free vanilla extract
2 large eggs
2 1/4 cup gluten-free baking mix
1 teaspoon baking soda
1 teaspoon gluten-free baking powder
1 teaspoon salt, optional
2 cups semi-sweet chocolate chips
1/2 cup chopped nuts, optional
Directions:
Preheat oven to 375 degrees. Grease two large cookie sheets. Blend butter and sugar in a bowl until creamy. Add eggs and vanilla. In a large mixing bowl, blend remaining dry ingredients; slowly fold in sugar mixture. Spoon in chocolate chips and nuts, if desired. Drop by the teaspoonful onto cookie sheet. Bake 7-10 minutes. Cool and serve. Yield: 2 dozen large cookies or 3 dozen small cookies.
Sounds yummy, right?  If you have a gluten-free chocolate chip cookie that you think can beat this one, please email it to me!  I'd love to try it!
Still looking for that perfect gift for the Celiac or Gluten Intolerant person in your life?  I'm here to give you some more recommendations!  Today's topic is Gluten Free Gift Baskets.  I found several companies that sell these specialty gluten-free gift baskets and the nice thing is that we're all familiar with Amazon and it's a company we know we can trust.  While the companies selling the baskets are independent sellers, there is a bit of implied trust in dealing with Amazon as the middleman.  These baskets can be shipped anywhere that Amazon delivers.
Product Description:  A gift basket perfect for: Autism and Food Allergies – Special Diets for Children with Autism – Nutrition and Autism – Biomedical Treatments for Autism – GFCF (GF/CF) – Gluten Free Autism Diet – Autism Children – Casein Free Autistic – The GFCF Diet – Gluten Free Casein Free Food – Wheat Free Dairy Free. A gluten-free casein-free diet (or GF/CF diet) eliminates foods that contain gluten (found in wheat, barley, and rye) and casein (found in milk). The Autism Research Institute and other advocacy groups recommend the GF/CF diet as a treatment for autism and related disorders. The Centers for Disease Control reports significant increases in Autism and ADHD – both affecting primarily boys. The CDC estimates that 1 out of 175 children (age 4 to 17) currently have Autism. Before 1985, Autism occurred in less than 1 out of 2000.

ADHD is much more common in that it affects 4.4 million U.S. children (age 4 to 17). Common to both of these conditions is the negative impact of certain foods – especially milk products and glutens such as wheat. One of the challenges that parents face is coping with children who have picky appetites and crave the very foods that affect their behavior, focus and development. The other challenge is finding ways to get their children to eat healthy foods and improve their nutritional status. GlutenSmart is proud to present a special gift basket to help introduce your child to the Gluten Free/Casein Free lifestyle.

The Casein Free, Gluten Free Gift Basket Contains:* Bakery on Main Cranberry Orange Cashew Granola, Glutino Pretzels 2.6 oz. bag, Mrs. Mays 2 oz. Coconut Almond Crunch Snack Bag, Mrs. Mays 2 oz. Cran-Blueberry Snack Bag, Gluten Free Pantry Chocolate Truffle Brownie Mix, Cherrybrook Kitchen Chocolate Cake Mix, Cherrybrook Kitchen Chocolate Frosting Mix, Enjoy Life Chewy Chocolate Chip Cookies, Road's End Organics Mac & Cheese Mix, Glenny's Brown Rice Chocolate Marshmallow Treat Bar, Ener-G Foods Gourmet Onion Crackers, and more.
Product Description: Delicious Gourmet Assortment of our freshly baked gluten free, sugar-free treats! This beautiful gluten-free gift-basket is filled with cheesecakes, cookies, pastries, and chocolates! Perfect for anyone on a special diet as all of our items are also low sodium, low cholesterol, and high in fiber!

Price includes basket, beautiful holiday gift wrap and bow, and your message on a personal card. All items should be refrigerated or frozen upon receipt. Please note** Customers in the following states must select expedited shipping as ground shipping to these states takes a full week: CA, WA, AZ, UT, ID, OR, NM, ND, SD, TX and NV.
Product Description: Our Gluten Free Gift basket for Christmas is filled with delicious, gourmet gluten-free treats. Perfect for those with gluten sensitivity.

Includes: Dr. Lankin's Awesome Almonds® Flavored Almonds, (2) Betty Lou Gluten Free Vegan Bar or Krispy Bite Lesser Evil Flavored Popcorn Gluten Free Cookie with all-natural & organic ingredients, Sensible Foods Dried Fruit Mix Boomi Bar, Glenny's Organic Soy Crisps Gluten Free Plantain Chips, Handmade Basket
Product Description: Decadent freshly baked gluten free gift basket filled with 2 gluten free loaf cakes, gluten free brownies, gluten free muffins & gluten free cookies. Baked in our dedicated facility fresh to order.
It should be noted that each of these companies have several baskets available on Amazon, so if you don't see what you want right away, just click on the company link near the top of the Amazon page.
I have to tell you.  I received a gluten free gift basket for my birthday last year and it was a wonderful gift!  I enjoyed having such a choice of goodies that I could  confidently reach into and grab whenever I wanted a little something.  I highly recommend a gluten free gift basket as a GREAT gift for the gluten-intolerant individual in your life–for Christmas, a birthday, or "just because."
I would like to make some recommendations for some gifts that may be very welcomed by the Celiac or person with Gluten Intolerance in your life…even if that's you!  (Hey, who says we can't give ourselves a gift at Christmas?)  Today's recommendations include a couple of magazines that I have come to love and read faithfully over the past several years.  And what's even better is that they are a great price for a subscription–quite a bit cheaper than buying them individually at the store!
The first one is Living Without Magazine, which I have been reading for over three years now.  The information is always timely and relevant to those with food allergies, but specifically for those who can't tolerate Gluten, Wheat, and Dairy.  Living Without is published every two months and it is currently selling for $23/year.  The publisher description reads:
Living Without is a lifestyle guide for people with allergies and food sensitivities. It provides guidance, direction, products and encouragement for people living on a gluten-free or other restricted diet. Living Without can help you open the door to living abundantly with your special needs. It isn't about minimizing the challenges of living with allergies and intolerances…It's about learning to live well while living without.
My second recommendation is also a great magazine for those who can't eat gluten.  Gluten-free Living focuses most specifically on the issue of gluten, but helpful general information can also be gleaned for those with other food allergies.  This magazine is pretty new to the industry–just a couple of years old, but a very fun magazine to read each time.  This magazine is published quarterly and is currently going for $34/year.  The publisher description reads:
Gluten-Free Living is a national magazine for people who have celiac disease and follow a gluten-free diet. Since the writers and editors are living with celiac disease, they understand the challenges faced by those who must follow a gluten-free lifestyle. Issues offer practical advice and tips, information on how to decode mystery ingredients, and lessons about what celiac disease is all about.
If you read the reviews on Amazon, you will notice that both magazines have had some issues with timely publication and delivery in the past.  As far as I can tell, these have been resolved.  I did notice these issues, myself, but not in the past year or so.  Both magazines are worth the money, in my opinion.  For those new to eating gluten-free, they are great educational tools and for those who have experience, there are plenty of recipes and stories to keep me interested–and I've been gluten-free for over three years now.
Our friends at Once-A-Month-Cooking have put together a free download of a Holiday Cooking cycle and most of the recipes are Gluten Free!
From Mary Beth Lagerborg, author:

We asked our consultant who checks the recipes for us and she says that with the exception of the Chicken Almondine recipe in this one-week holiday cycle, all the recipes are gluten-free (checking labels on ingredients, of course).
The download link is: http://once-a-monthcooking.com/includes/HolidaySamplerFinal.pdf
Be sure to sign up for their newsletter while you're there to receive notices of new specials like this one in the future!
Natural Health Center
4610 West Main Kalamazoo, MI 49006
Saturday Oct. 24
10 am – 4 pm
It's our annual celebration for our gluten-free friends! Join us for all kinds of great activities and samplings … Gluten Free Sensations (cookies & granolas!), Celiac Specialties (donuts and more!). We will also have local restaurants (Pasta Pasta, Erbellis and FireBowl Cafe) that offer gluten-free menu items! Bike Raffle and other great gift baskets and giveaways!
Gluten Free Tips
…to avoid contamination in the kitchen!
Purchase separate jams, peanut butter, and mayonnaise to avoid bread crumbs in the shared jars.
Purchase a separate toaster for gluten free breads. Or- use a toaster oven that can be cleaned between uses, or place tinfoil on the rack to avoid contamination.
Clean counter tops and cutting boards often to avoid contamination.
Cooking utensils, colanders and pans need to be cleaned carefully after each use and before gluten-free cooking.
Patsy's Gluten-Free Chocolate Chip Cookies!
A good friend of ours, who has been cooking gluten-free for years has shared this great chocolate chip cookie recipe. Let us know how you like it!
Jill's Pick!
Our "staff pick of the month" is Jill's new favorite … gluten free, soy and dairy free Coconut Bliss Bars! They are delicious! You would never know that they are gluten and dairy free! Because they are agave sweetened they are low glycemic! To top it off they are organic and use fair trade ingredients!
Due to illness, the meeting is canceled tonight.  Local group-please check your email for more details.
I would like to take a minute to congratulate Irene (@glutenfreeirene), who is the winner of the Once-A-Month-Cooking: Family Favorites book contest!  The winner was randomly drawn by my son.  Irene showed that she really wanted to win–she signed up for the mailing list, tweeted about the contest, commented on the post, and signed up for our Facebook group!
For those of you who didn't win this time, thanks for playing along!  I will be sending out a little something special to the mailing list in the next couple of days to thank all of you for your participation!
Oh, and if you didn't win, you can always pick up a copy of this book by clicking on the link above.  I'd also love to hear your reviews about it, so let me know if you write one, please!